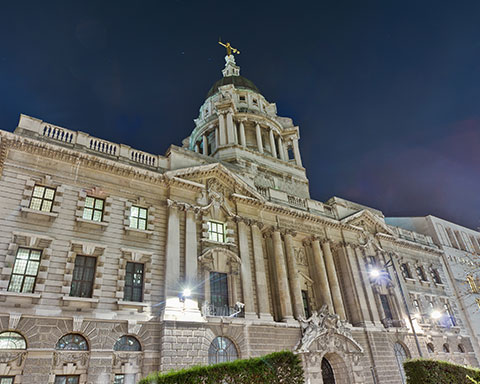 COVAC were very proud to be part of a project which involved the upgrading of two steel, Braithwaite, sectional, potable water storage tanks located within a Plant Room of inside The Central Criminal Court of England and Wales, commonly referred to as the Old Bailey.
As part of this Client's pro-active water hygiene regime, both tanks were inspected thoroughly and the existing, internal coating had reached the end of its useful life due to accelerated corrosion which had formed holes in numerous areas causing leakage of water into the plant room.
Replacing these tanks in such a sensitive, high profile location would have been both impractical and significantly cost prohibitive, so a solution was required which would bring the tanks back to a standard of (at the very least) as good as the day they were installed.
The client also wanted the comfort factor of a long term guarantee covering all the problems associated with tanks of this kind i.e. corrosion, leaking etc. whilst leaving a fully encapsulated, durable, internal surface which was easy to inspect and clean in the future.
This project was not without its challenges. Anybody who has heard the phrase 'SILENCE IN COURT!' will probably guess that noise was a major concern for the client on this project. All relatively noisy preparation was therefore carried out during evenings once court proceedings had stopped.
Another challenge we faced was the confined space working aspect. The only means of access /egress was a 600mm access hatch located in the roof of the tank. In the event of an accident our Rescue Plan had to include an escape route from the tank (in accordance with confined space working regulations) which would allow safe and reasonable access for a potentially injured person to be removed from the tank. This is not easy when you cannot install a tripod and winch over the access hatch due to the roof of the tank only being 60cm away from the internal roof of the plant room.
Solution:
Install a new stainless steel low level access hatch into one of the steel panels of the tank.
Result:
Safe and easy access for our operatives and for whoever carries out cleaning and chlorination in the future.
---
"Your guys did a really good job, COVAC were very professional and completed the works on programme and on budget in a very sensitive site. I would have no hesitation in using your company again. Thank you"
Carmel Mc Gowan – Senior Principle Engineer, Operations Group City Surveyors Department, City of London Corporation