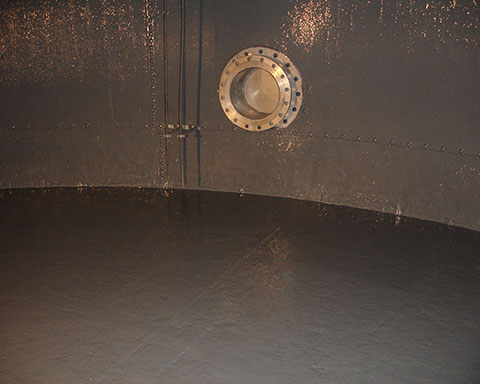 If you do not know why you should choose tank relining over replacement, you could end up spending a fortune on a new water retaining structure. To save you the great cost we have put together this guide on why you should choose to reline your tank rather than replacing your tank. You may believe that your water tank is beyond repair but in our time, we have repaired and relined many tanks that had appeared to have reached the end of their lifetime. So, take note today to ensure you choose the right option when your liquid retaining structure is suffering from faults.
A new lining is more cost-effective
Replacing a water tank can be very expensive with various costs involved in implementing a new water tank into your facility. When replacing a water tank, you will be hit with costs for the installation of the tank, the water tank itself and the cost for the removal of your previous water retaining structure. Tank repair and relining, therefore, represent a great cost alternative to the replacement of your water tank. This will be a much cheaper project to complete, to get your current water retaining structure back up and running in your facility.
Tank relining is a quicker process than a replacement
The replacement of a water tank is not only very costly in terms of money, but it is also a much longer process to complete compare to water tank relining and refurbishment. The process of a full tank replacement can take a matter of weeks, whereas a reline and repair can be carried out within the same day. This will provide you with a much better turnaround and will also cause less disruption to your business operations compared to replacing your water retaining structure. So, if you need to be back up and running as soon as possible a tank reline or refurbishment process will be the better option.
Long term solution is provided for your current tank
When water tanks become corroded or damaged, we all want to find a solution that will solve all of our problems in the long term. However, when it comes to tank replacements it may not be the best solution in the long term, as your replacement tank will need to have the correct lining to ensure it does not have the same issues in future. Relining and refurbishment provide more of a long term fix as it is preventative maintenance to make sure that your water retaining returns to functioning properly again. Also, with new water tanks, you may only receive a one year guarantee, whereas with tank relining jobs you will be offered a 10-year guarantee to cover any faults you face.
Relined tanks are more simple to maintain
Another reason why you should choose tank relining over replacement is the maintenance benefits you will witness with a relined water tank. When a water retaining structure has been relined the tank becomes much easier to maintain. The new coating will be easy to clean as the reline will leave your surfaces smooth and tough with a ceramic-like finish. This will reduce the amount of time you have to spend maintaining and cleaning your tank. By streamlining the maintenance of your water retaining structure, your operation and functioning will improve.
Relining complies with the current regulations
The relining of a water tank will comply with all of the current regulations such as WRAS and DWI, whereas a replacement tank may not be approved by those regulations. By being regulated to the relevant standards, your water retaining structure will be safe in its functioning. With WRAS and DWI approval your water tank will be able to store drinking water and potable water, as new coatings will conform to the associated standards. A replacement tank will need to have the correct lining to comply with current regulations, so relining and refurbishment is a much more convenient option in this case.
Now you know why you should choose tank relining over replacement, you have the knowledge to make an educated decision when your water tank is suffering from issues. Browse our tank lining and tank refurbishment services today if you currently have any problems with your water retaining structures. Alternatively, contact us today if you would like to find out further information or have any questions on our services.