Fire Sprinkler Tanks
Nationwide Water Tank Lining Experts
Fire Sprinkler Tank Lining & Repair
WRAS Certified & DWI Listed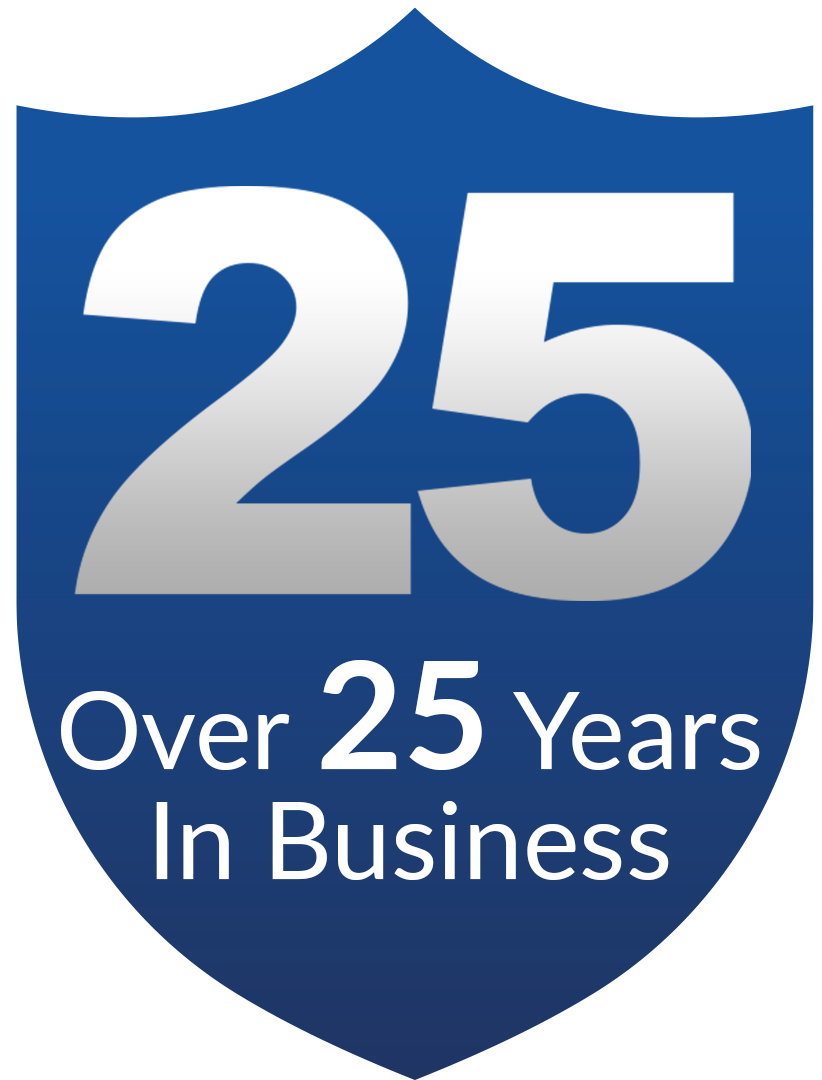 Fire sprinkler tanks are often susceptible to corroding as their metal substrate is not always protected during installation. This can be due to the original coating breaking down or liners failing to function correctly, which can lead to a loss of water from leaking. Our exceptional fire sprinkler tank lining and repair service can correct this issue. The aim with our refurbishments is to restore your tank to the condition it was when originally installed, with our work applicable with tank approval criteria.
We offer our fire sprinkler tank lining service on various types of sprinkler tanks from steel sectional, GRP and concrete structures, so we can find the right fix for the material of your tank. Whether your tank just needs relining or a full refurbishment our fully qualified and certified team will be able to provide a long term solution to solve the problems with your tank. Our refurbishment complies with LPC rules for automatic sprinkler installations 2015.
If you require further information regarding our fire sprinkler tank lining and repair service, contact us now or go ahead and request a free quote today.
CONCRETE FIRE SPRINKLER TANKS
Concrete fire sprinkler tanks may be prone to leaking as water can find its way through weaker areas of concrete substrate where cracks fissures and blowholes are present. If left untreated these issues can become very serious so it is essential that concrete fire tanks are refurbished if they have faced any corrosion.
In this instance we refurbished a concrete fire tank sized at approximately 10m x 3.4m x 2.5m located partially underground at a hospital in Scotland. There was evidence that the tank was leaking, therefore we suspected that the existing 'render' had 'popped' due to ingress of water and water was finding its way through the weaker areas of the concrete substrate (i.e. cracks, fissures and blowholes). If left untreated the problem would have escalated to more catastrophic proportions.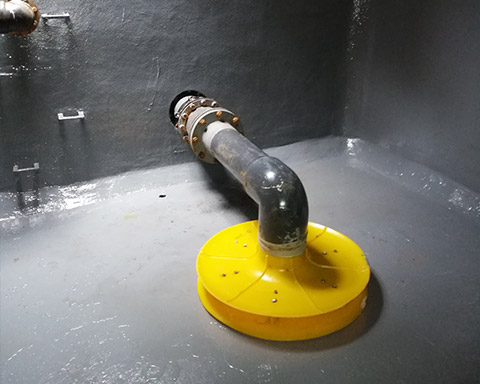 GRP fire sprinkler tanks will need to be refurbished if the substrate breaks down, as this can lead to leaking if the mastic fails to function properly. Our excellent refurbishment service can ensure that your tank is resistant to these problems by using our COVAC coating system.
On this project we worked on a GRP sectional water retaining structure, sized at approximately 10m Long x 6m Wide x 3m High. The structure has an internal, divisional, GRP wall which 'splits' the structure into 2 compartments, each sized at approximately 10m x 3m x 3m. One compartment was currently full of water, whilst the other had remained empty for approximately two years, due to numerous leaks from the joint areas where the mastic between the panels had failed. In an attempt to stop the leak, the bolts had been over tightened, however, this just resulted in the mastic being further squeezed out and exacerbating the problem. The Client requested that both compartments were relined as the compartments were the same age, the full compartment was very likely to also fail in the near future.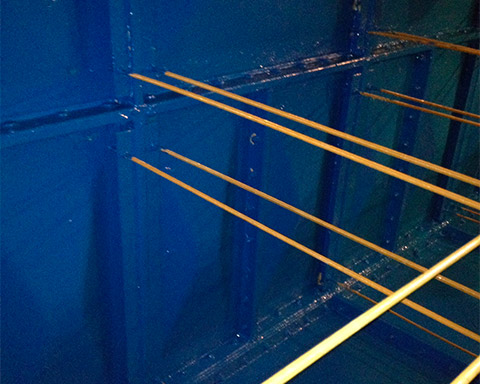 STEEL SECTIONAL FIRE SPRINKLER TANKS
Steel sectional fire sprinkler tanks can become severely corroded which can lead to the metal substrate breaking down. However, with the excellent refurbishment service COVAC offer you can avoid witnessing these problems with your tank.
This project involved a steel sectional fire sprinkler tank made from 4' x 4' steel, profiled panels and internal steel bracings. The tank is sized at approximately 20' x 12' x 12 and located in a shopping arcade in Warwickshire. The internal surfaces of the tank had been previously coated with bitumen which had reached the end of its useful life due to sub-film corrosion, low film build, general deterioration and subsequent de-bonding. Although there was evidence of significant corrosion, the tank was structurally sound and after our full relining service has many more years of trouble free service ahead.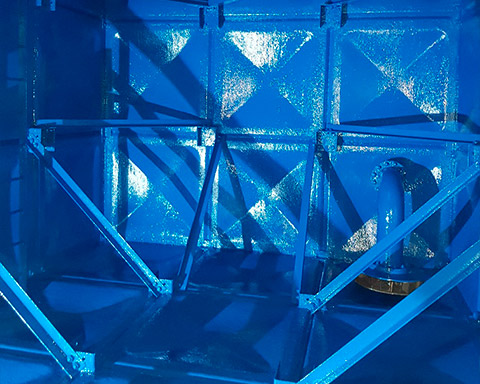 Contact Us Today
For more information or help and advice, please don't hesitate to get in touch by filling out the form below or calling us. A member of our friendly and experienced team will be happy to help you.
FAQs
What is a sprinkler tank used for?
Fire sprinkler tanks are used for fire safety. They're very efficient at controlling the spread of and extinguishing fires indoors. Fire sprinkler tanks heavily contribute to the restriction of fire spread and should be implemented in all public buildings for safety.
Does a sprinkler system need a tank?
Depending on the pressure and flow rate of the water in your sprinkler pipes, installation of a fire sprinkler tank may not be necessary. If this isn't the case, a fire sprinkler tank will compensate for the weak flow of water and better distribute it throughout your sprinkler system.
What is the typical lifespan of a fire sprinkler tank?
The natural corrosion that occurs in fire sprinkler systems due to metals being exposed to water and oxygen can reduce the lifespan of your fire sprinkler tank from 40 years to as little as 15 years with minimal maintenance. The best way to prevent untimely deterioration is to have water tank lining installed as a protective barrier between the inner surface of the tank and the water.

Get In Touch With Your local Office
For more information on our services, call us on
0800 772 3367
today!
Testimonials
Covac have carried out a professional and extremely excellent treatment of our on site bulk water tank which now will allow this tank to be utilised for a number more years.

Covac are one the best companies i have worksed with and their works are first class.

Yarwood, Lee

Covac undertook the task to 'reline' one of our hot water tanks, roughly 5m x 5m x 4.5m. This involved blast cleaning the tank, then applying epoxy lining to the tank.

The Covac team on site were fantastic, they dealt with issues that occurred efficiently & worked through the task quickly & professionally.

Parr, Ashley

Covac always do a great job. Very proffesional attitude, great work and finish to what they do. Wouldn't use anyone else.

John Meadows

Yet again Covac has proved their skill and expertise in meeting problems head on and resolving them within the agreed programme, despite a much larger scope of works! Thanks again to the whole team on site and in the office for making a very difficult task stress free - Highly regarded expert team and 110% recommended to anyone looking for tank refurbishment/relining works.

Pete, East Sussex
Cert No. 22946

Cert No. 22946