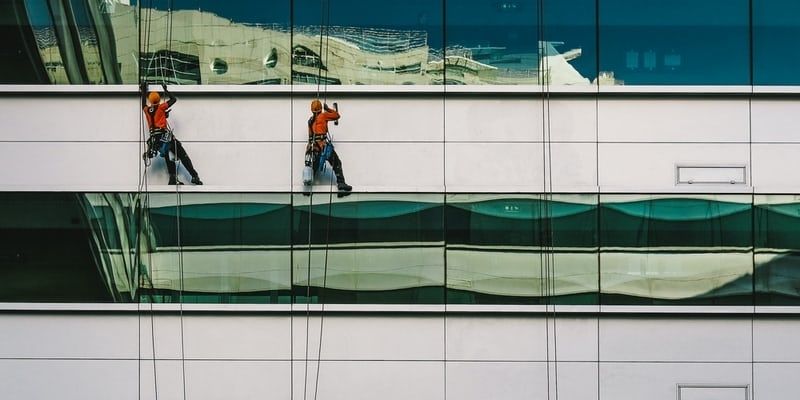 The realms of cleaning are diverse and unique but have you ever wondered what skills, qualifications or knowledge it takes to become a qualified commercial cleaner? Well you have come to the right place.
Here at Covac, we will take you through:
What is a commercial cleaner?
What are commercial cleaners' responsibilities?
The difference between domestic and commercial cleaning
How to become a commercial cleaner
What Is A Commercial Cleaner?
To start with we are going to look at what exactly is a commercial cleaner. A commercial cleaner is generally a person or company that provides cleaning services for businesses such as offices, shops, factories, bars and restaurants just to name a few. Some commercial cleaning companies will also provide domestic cleaning services for homes but this is not always common for them to offer.
Most commercial cleaners will have the equipment and staff available to carry out everything from dusting desks and emptying bins to industrial carpet cleaning and window cleaning. However what greatly sets them apart from industrial cleaners for example is the level of equipment utilised in cleaning. Commercial cleaners won't necessarily have the specialised equipment or chemical products to successfully clean and refurbish water tanks for example.
What Are Commercial Cleaners Responsibilities?
Now that we have an idea of what commercial cleaners are, we are going to dive into what responsibilities a commercial cleaner is likely to have which can be found below but is not restricted to:
Performing and documenting routine inspection and maintenance activities
Replenishing paper goods and detergents
Removing rubbish and replacing the bags where necessary
Following all health and safety regulations
Vacuum hard floors mats and carpets
Wipe all horizontal surfaces with a damp cloth, this includes chairs, tables, desks, and other types of furniture
Mop hard floors using disinfectants
Remove cobwebs from all areas
Remove fingerprints and marks from door frames and light switches
Wipe all internal glass
Polish brass and bright work on cabinets and doors
Clean automatic glass doors inside and out
Difference Between Commercial And A Domestic Cleaner
Now we know what some typical responsibilities are of commercial cleaners, it is time to look at what sets them apart from domestic cleaners.
Area coverage
The main factor that helps differentiate commercial and domestic cleaners is the area that's covered by each service. Domestic cleaning is often used for cleaning in residential environments such as private housing whereas commercial cleaning is usually done on large scale business areas. Therefore this suggests that domestic cleaning is better suited for smaller areas while commercial cleaning service is better suited for larger areas.
Person responsible for the cleaning
In most cases, domestic cleaning is carried out by the owner of the house or put simply, a singular person. Commercial cleaning on the other hand may be done by cleaners who belong to a company or hired by cleaning experts.
Materials For Cleaning – Tools And Devices
Since domestic cleaning is done on a small scale, the cleaning equipment required for completing the job is often too powerful to be used in residential areas. For example, if someone lived in a council estate, a high powered jet machine would probably be too powerful when cleaning windows and may break if the person utilising it does not know what they are doing. On the flip side, for cleaning in larger areas, huge floor polishers, vacuum cleaners, and other such equipment are necessary which is why it is better suited for commercial cleaners.
The Process of Cleaning
When it comes to the process of cleaning, domestic cleaning is very different from commercial cleaning. Domestic cleaning involves very simple tasks whereas commercial cleaning is often more complicated and is divided into different tasks due to the larger scale of the total cleaning time. In addition, commercial cleaning companies are required to meet certain health and safety standards. This is because every business will have its own unique cleaning procedures and processes. For example, the method of cleaning a multi-story office building where harnesses may be involved will be different to how a hospital is cleaned.

How To Become A Commercial Cleaner
Now that we have an idea of what a commercial cleaner is and the difference between a commercial and domestic cleaner, why don't we look at how you can actually become a cleaner today which can be found below.
You may be pleased to know that there doesn't need to be any expensive training courses or expensive degrees in order to become a commercial cleaner. According to the government national careers service website, you can take the following routes to become a commercial/industrial cleaner:
A college course
An apprenticeship
Applying directly
A specialist courses offered by a professional body
For college, you can apply for the following:
Level 1 Award in Cleaning
Level 2 Certificate in Cleaning Principles
The entry requirements are:
2 or fewer GCSEs at grades 3 to 1 (D to G), or equivalent, for a level 1 course
2 or more GCSEs at grades 9 to 3 (A* to D), or equivalent, for a level 2 course
Furthermore, cleaning involves handling potentially harmful chemicals, so you will also need to comply with acts such as the Chemicals Regulations (2002), Control of Substances Hazardous to Health and the Health and Safety at Work Act.
Finally, you do not need a licence to start cleaning however, the Criminal Records Bureau (CRB) may undertake checks if you are cleaning buildings such as schools and hospitals to ensure community and client safety.
We hope we have widened your knowledge on the world of commercial cleaning. If you are interested in any cleaning services such as water tank cleaning contact us on 01455 556 631 or alternatively, email us at: info@covac.co.uk