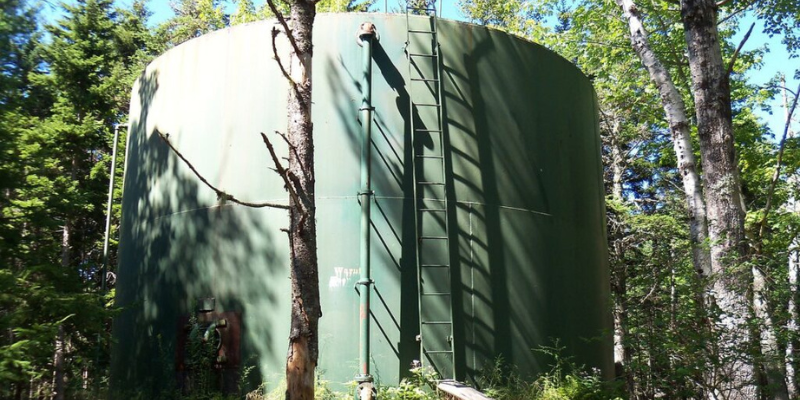 Why should you get a water storage tank? Water storage tanks are beneficial for both domestic and commercial settings, but it can be difficult to decide whether buying a water storage tank is worth it or not.
This article will help you understand the benefits of installing a water storage tank and the importance of maintaining it once you have one.
What are the Benefits of a Water Storage Tank?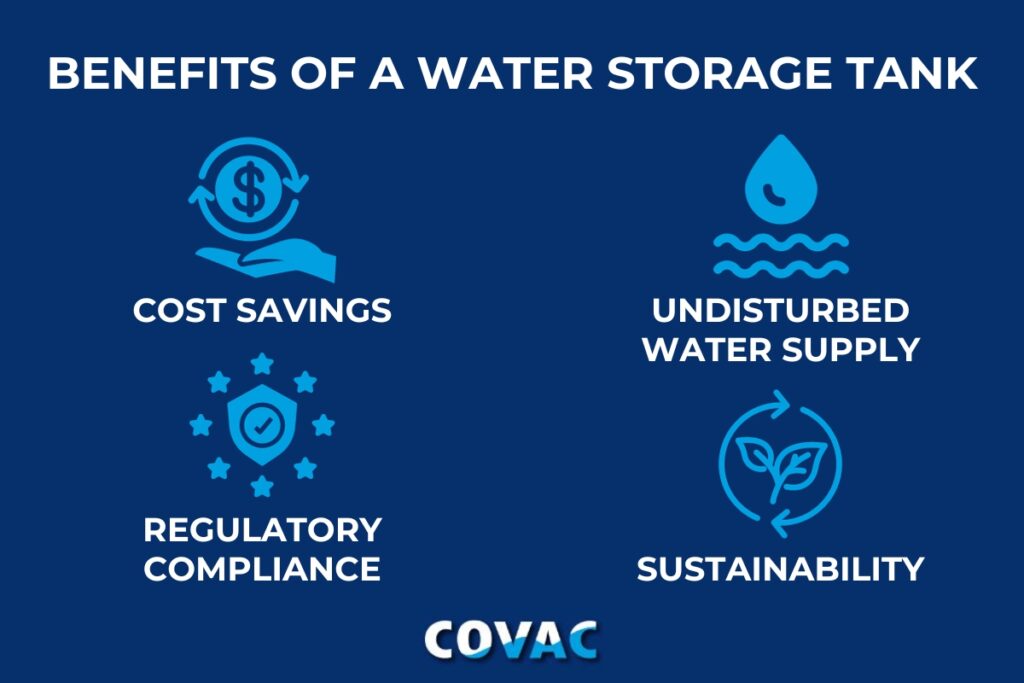 Having a water tank allows you to not be reliant on traditional water sources to cover your water needs. The benefits of owning a water storage tank go far beyond just financial or environmental. Here are some of the biggest benefits you might notice should you decide to install a water tank on your premises:
Cost Savings
Storing water in a tank and using it during peak demand times can help you significantly reduce your water bill in commercial settings where water usage is high. 
In domestic properties along with saving monthly on your bills a water storage tank can add value to your property.
Environmental Sustainability
Using collected rainwater for your non-potable needs such as irrigation, cleaning or flushing toilets, lessens the strain on traditional water supplies, having a positive impact on the environment.
This is an important consideration for businesses aiming to lower their environmental impact and implement sustainable practices.
Backup Water Supply
A water storage tank provides a backup supply in the case of an emergency, such as a water main break, natural disaster or other issues with the main water supply. This ensures that businesses can continue to operate without any disruptions.
Regulatory Compliance
Certain types of commercial buildings may need to have a water tank for regulatory compliance purposes. This is most common in industries where large amounts of water are used or that have specific water storage and disposal regulations. 
What Types of Water Tanks are Available
So what are the different types of water storage tanks you can get? Certain types of water tanks are better for certain kinds of water. Here are some of the most common water tank types:
Potable Water Tanks
If you own a business and want to have easy and immediate access to drinking water for your employees, a potable water tank could be extremely beneficial. 
Any water intended for consumption needs to be maintained to ensure that no harmful substances like algae and waterborne bacteria can access your water, which could affect the health and safety of those drinking it.
Another potential risk to health is sediment as a result of tank corrosion.
All water stored in a potable water tank must adhere to the Water Regulations Advisory Scheme, a set of regulations that ensure that drinking water is safe for consumption.
Regular cleaning and suitable water tank lining ensure that the water in your tank is kept healthy and can be drunk by the people in your household or your employees.
Fire Sprinkler Tanks
Fire sprinkler tanks are a necessity for larger businesses that have plenty of potentially fire-hazardous floor space to cover. Having an expansive system of readily available water to combat fires could be the difference between an out-of-control blaze and putting it out nearly as quickly as it started.
Concrete fire sprinklers can be prone to tank corrosion and leaking, but if you ensure to line your tank and regularly review the condition of your tanks, you won't need to concern yourself with the possibility of destructive fires.

Cooling Towers
Cooling towers provide a cost-effective method of heating, ventilating and air conditioning large industrial systems. They are best utilised in facilities where large quantities of water are needed for cooling.
When cooling towers corrode, they form sludge and sediment that breeds Legionella – the bacteria causing legionnaires disease. Your cooling tower needs to be cleaned properly and the lining of the tower correctly maintained, to avoid such issues.

Hot Well Tanks
Hot well tanks are another water tank type and a core component of boiler houses. They act as water reservoirs for the turbine cycle and refill the hot well when it reaches a low point.
Hot well tanks will reduce the likelihood of damage to your boiler by ensuring that the temperature of the water isn't too hot or cold. Extreme temperatures could cause thermal shock or structural damage and reduce the efficiency of your boiler.
How to Maintain Your Water Tank After Installation?
Once you have made the decision to get a water storage tank and it has been installed in your property, it's important to regularly maintain your tank. Here are some of our expert tips for maintaining your water tank in functional condition.
Water Tank Lining and Refurbishment with COVAC
Here at COVAC, we believe that water tank lining is as important as the tanks themselves. 
A good lining system is the best tank corrosion-inhibitor. Without it your tank is more susceptible to tank corrosion, bacteria build-up and even at risk of total replacement. Implementing a water tank lining into your water system will prolong the lifespan of your tank.
We use only the best water tank coating systems including the WRAS and DWI-approved Acothane DW coating. All of our coating installations come with at least a 10 year guarantee, offering you complete peace of mind.
Get in touch with our team today to find out how we can help you.