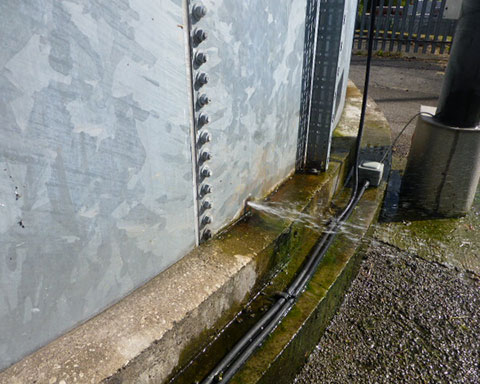 Water tanks are used on a diverse range of sites and for a wide variety of different purposes, with many operating without any problems. However, there is always the risk that unchecked corrosion in a steel tank, failed mastic between joints in a GRP tank or eroded/cracked concrete could be the source of a leak so it is important to have a plan of action. To help you with this, COVAC would like to offer a few pointers on what to do in the event that your water tank starts to leak.
STEP ONE: Don't Panic
The first thing that you will undoubtedly do is start to do worry about the consequences of the leak. How much will it cost to repair? What damage has the leak done? How long will the tank be out of action for? COVAC operate nationally and so can usually organise a site visit for you to inspect the tank at very short notice. Failing this, good quality photographs coupled with the dimensions of the tank and information regarding access mean that we can at the very least, get a budget quotation and recommendations to you the same day.
STEP TWO: Call at the First Sign
It is important to call us at the first sign of a leak as leaving it can have severe consequences. A small leak which would have been quick and easy to repair can quickly escalate into a far more significant problem with possible contamination of the water and further major damage to your premises.
STEP THREE: Undergo the Repair
Repair work is far more cost effective than replacement and will also ensure downtime is kept to an absolute minimum. Utilising the highly effective COVAC Coating System, your leaking water tank will quickly and effectively be repaired and relined leaving a safe and easy to clean environment within which to store water.
Our Ten Year Guarantee will also ensure that, in the unlikely event your water tank leaks, corrodes or erodes in the ten year period after completion, we will return to resolve the issue.
If you have noticed that your water tank has started to leak, don't panic, call COVAC today on 0800 772 3367 so we can discuss your problem and formulate a plan to resolve it. Our team will conduct a quick, efficient and highly effective repair of a leaking water tank, giving you complete peace of mind.