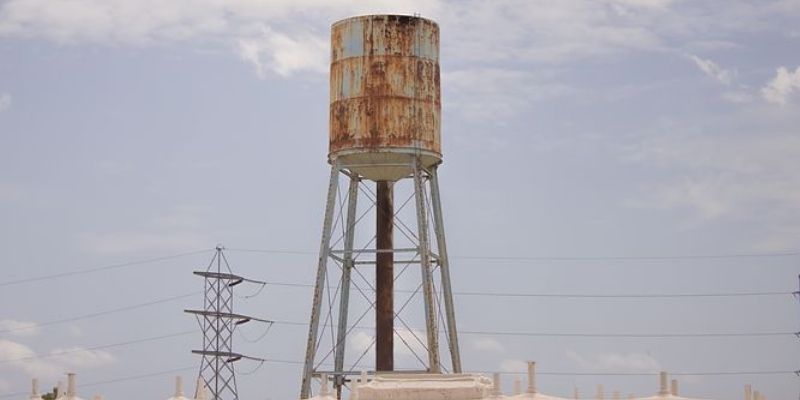 Galvanised steel water tanks are often used to safely store large quantities of water for commercial purposes. They are reliable, tough, long lasting and finished with a galvanised coating to prevent premature rust and corrosion of the tank.
Supplied in kits to minimise transport costs, this type of tanks can be easily assembled where they are needed. Some of the common applications of galvanised tanks include rainwater harvesting, farming and many more. Some of those require the use of tanks with sizes varying from 9000 litres (1980 gallons) to 500,000 litres (109,985 gallons).
In this guide we explore the importance of regularly maintaining your galvanised tank.

What is Used to Protect Galvanised Tanks?
Modern galvanised steel tanks come with an inner poly lining. This provides additional protection to the steel tank from the stored water, which limits the buildup of rust and corrosion. In addition, it helps prevent leaks at the welded joints – a common weak point in steel tanks and a major cause for water leaks.
The inner poly lining in galvanised steel tanks also stops zinc mixing into your rainwater, which can give your water an unpleasant metallic taste.
Does Galvanised Steel Rust in Water?
Because the zinc acts as a barrier for oxygen and water, it's nearly impossible for galvanised steel to rust.
There are various factors that affect the metal's resistance to corrosion including the thickness of the galvanised coating. But generally, galvanised steel will remain in good condition for decades, especially with the proper maintenance.

Why is Maintaining Your Galvanised Water Tank Important?
Keeping your galvanised steel water tanks in good condition is pivotal for maintaining the quality of the water inside them. Although the properties of galvanised steel prevent the development of corrosion and rusting, they still need to be maintained to get the most of their lifespan.
It's not just the structure of your water tank that you have to worry about. Sometimes, the lining of the tank can become dislodged meaning the tank's material may naturally come into contact with other metals. If a situation occurs where zinc, for example, comes into contact with another metal, it creates the potential of a galvanic corrosion which reduces the useability of the tank.
How to Maintain a Galvanised Steel Water Tank?
When carrying out maintenance work on your tank it is important to use the correct maintenance products.
Excessive abrading of the galvanised tank can cause rust and corrosion to occur more quickly. This is because 'galvanising' protects steel from corrosion by developing a thin barrier film of insoluble zinc corrosion on the outer surface when it is exposed to the atmosphere.
Abrasive cleaning will wash away this corroded zinc consequently requiring another build up of this protective barrier which only consumes more of the zinc. As a result, this process will reduce the life of any galvanised steel product.
Water Tank Maintenance with Covac
If you need help maintaining your galvanised steel water tank, Covac can help. We provide expert tank maintenance and relining no matter what condition your tank may be in.
Our highly trained and qualified cleaning engineers will solve any problems you have from full on water tank relining to repairs. For more information contact us on 01455 556 631 or alternatively email us at info@covac.co.uk.